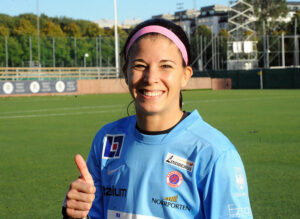 Team Canada is in the final four of women's soccer at the 2020 Olympic Games in Tokyo in 2021. On Friday, the Canadian squad came away with a dramatic, and emotionally exhausting shootout win over Brazil in the quarterfinals.
There were no goals during the game in regulation or the extra time in Canada's win over Brazil. In the penalty shootout, Christine Sinclair of Burnaby, British Columbia, was the first Canadian shooter, but her shot was saved by Brazilian goalkeeper Barbara. However, Sinclair was the only Canadian in the shootout not to score, as midfielder Jessie Fleming of London, Ontario, midfielder Ashley Lawrence of Toronto, Ontario, winger Adriana Leon of Mississauga, Ontario, and defender Vanessa Gilles of Chateauguay, Quebec, were all able to beat Barbara.
The biggest story of the shootout was the fine goalkeeping by Canadian goalkeeper Stephanie Labbe of Edmonton, Alberta. Labbe made two huge saves on Brazilians Andressa Alves and Rafaelle. One could make the argument that Labbe is the finest goalkeeper Canada has ever had, and she is arguably the best soccer player ever to come out of the province of Alberta.
Canada will now play the United States in the semifinals. The Americans needed a penalty shootout to win themselves, as they knocked out the Netherlands 3-2. The other semi-final has Sweden versus Australia.