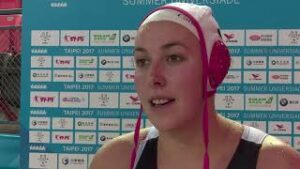 Team Canada is in the gold medal game in women's water polo at the 2023 Pan American Games in Santiago, Chile. On Saturday, Canada will face the United States. On Friday, Canada won their semifinal game by a score of 21-4 over Brazil.
Canada outscored Brazil 7-3 in the first quarter, 5-0 in the second quarter, 3-1 in the third quarter, and 6-0 in the fourth quarter. Canada outshot Brazil 35-20.
Elyse Lemay-Lavoie of Montreal, Quebec led Canada with six goals. Other Canadian women's water polo players who found the back of the net were Emma Wright of Lindsay, Ontario (four goals), Serena Browne of Montreal, Quebec (three goals), Axelle Crevier of Montreal (two goals), Daphne Guevremont of Montreal (two goals), Verica Bakoc of Toronto, Ontario (two goals), Kindred Paul of Spruce Grove, Alberta (one goal), and Floranne Carroll of Montreal (one goal).
The United States won the other semifinal by a score of 27-1 over Argentina. To only give up a single goal in an entire water polo match is truly remarkable. The winner of Saturday's Pan American Games women's water polo match will qualify for the 2024 Olympic Games in Paris. The United States will play Brazil in the gold medal game in men's water polo at the Pan American Games.