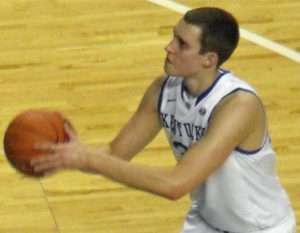 Team Canada has qualified for the 2019 Basketball World Cup in China. Team Canada earned their spot by beating Brazil 94-67 in the FIBA World Cup qualification in Sao Paulo, Brazil on Monday, and have joined Argentina, the United States and Venezuela as the nations from the Americas that have qualified for the World Cup to date. This is the first time since 2010 that Canada qualified for the tournament.
In Canada's win over Brazil, Kyle Wiltjer of Whitehorse, Yukon, led the Canadian attack with 25 points. The other Canadians to reach double digits in points were Phil Scrubb of Vancouver, British Columbia (15 points), Thomas Scrubb of Richmond, British Columbia (14 points), Kyle Landry of Calgary, Alberta (10 points) and Duane Notice of Toronto, Ontario (10 points).
Canada is now one of 18 teams to qualify for the tournament to date. In addition to the three nations from the Americas, China has qualified for being the host, Tunisia, Angola and Nigeria have qualified from Africa, while Greece, Germany, the Czech Republic, Lithuania, France, Spain and Turkey have qualified from Europe, and Australia, New Zealand and South Korea have qualified from Asia.
The Basketball World Cup is expanding in 2019 from 24 to 32 teams. The tournament is taking place from August 31-September 15 with teams being placed in eight divisions with four teams in each. The top two teams from each division reach the second round. From there, teams are placed in four new divisions, with the top two teams reaching the quarterfinals.