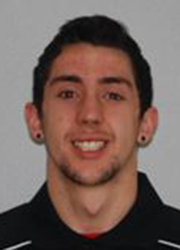 Team Canada has qualified for the 2020 Olympic Games in Tokyo in men's volleyball. On Sunday from Pacific Coliseum in Vancouver, British Columbia, Team Canada finished the 2020 North, Central America and Caribbean Volleyball Confederation Olympic qualifying tournament with a perfect record of three wins and zero losses.
After Canada's straight set win over Mexico on Friday, Canada beat Cuba 22-25, 22-25, 25-12, 25-21, 15-9 on Saturday and then beat Puerto Rico 25-21, 25-15, 25-15 on Sunday. They join Japan, Brazil, Argentina, United States, Italy, Tunisia, Venezuela, Poland, Russia, France and Iran who already qualified.
In Canada's win over Cuba, Stephen Maar of Aurora, Ontario led Team Canada with 21 points. Other Canadians who reached double digits in points were Ryan Sclater of New Westminster, British Columbia (20 points), and Nicholas Hoag of Sherbrooke, Quebec (11 points). Arthur Szwarc of Toronto, Ontario led Canada with six blocks, while Hoag and Maar led Canada with two aces each.
In Canada's win over Puerto Rico, Szwarc led Canada with 13 points. John Gordon Perrin of Creston, British Columbia and Maar also reached double digits in scoring as they had 12 points each. Szwarc led Canada with four blocks and Graham Vigrass of Calgary, Alberta led Canada with two aces.
The men's Olympic volleyball tournament in Tokyo will take place from July 25 to August 8. Canada is in a pool with Japan, Poland, Italy, Iran and Venezuela.