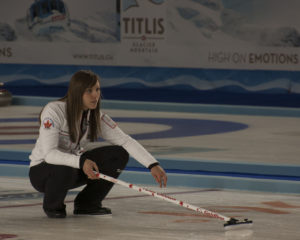 At the beginning of the Olympic women's curling tournament at the 2018 Olympic Winter Games in Pyeongchang, Canada's Rachel Homan got off to a horrible start in women's action as they lost their first three games. On the men's side however, Canada's Kevin Koe got off to a great start as they went 4-0.
Over the last two days however, the momentum for Homan and Koe have shifted significantly. It is Homan who has won three straight games and Koe that has lost three straight games.
Homan's victories came in a 11-3 win over Nina Roth of the United States, 10-8 in a come from behind win over Silvana Tirinzoni of Switzerland and in a 8-3 win over Satsuki Fujisawa of Japan. On the women's side, Canada has games left in the round robin against China, Great Britain and the Olympic Athletes from Russia.
On the men's side, it seems like an eternity since Koe's Team Canada rink beat Chang-min Kim of South Korea 7-6 on Friday, Since then Canada has lost to Sweden, Switzerland and the United States. Canada finishes the round robin with games against Japan and Denmark.
Even though Homan has won three straight games and Koe has lost three straight games, because their opposite starts, both teams are still in contention. Koe is in a third place tie with Great Britain and Homan is in a fourth place tie with China and Great Britain.