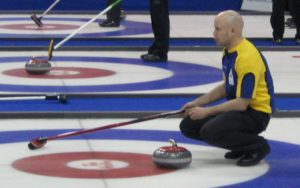 Team Canada will face Switzerland for Olympic bronze in men's curling. On Thursday, Team Canada was stunned by the United States and lost 5-3 in the semi-finals. It is the first time ever that Canada will not play in the gold medal game in men's curling at the Olympic Winter Games.
You might ask what happened to not only Calgary's Kevin Koe, but Ottawa's Rachel Homan as well. Homan's team became the first Canadian curling team ever not to win a medal at an Olympic Winter Games. My answer is simple. Both teams had problems reading the ice. There were numerous occasions by both Canadian teams where they hit guards or just came up light at key moments of their games. The other issue was the fact that Canada's opponents seemed to come up huge whenever they played Canada.
The curlers who throw fourth stones who beat Canada in men's action at the 2018 Olympic Winter Games were John Shuster of the United States (not once but twice), Niklas Edin of Sweden and Benoit Schwarz of Switzerland. Schwarz curled 82%, Edin curled 99%, and Shuster curled 82% in the round robin against Canada and 91% against Canada in the semi-final. However it was not just the percentages that deserve analysis. Canada's opposition made incredible shots at key times. On the women's side, there were great shots made by China's Bingyu Wang and Great Britain's Eve Muirhead, who each beat Homan.
The gold medal game in men's curling has the United States playing Sweden. On the women's side, South Korea plays Japan and Sweden against Great Britain in the semi-finals.
The bronze medal game in men's curling starts at 11:30 pm MT on Thursday. Canadian sports fans will hope history is not made any further.