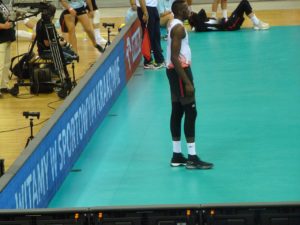 Team Canada improved to three wins and three losses on Wednesday at the International Volleyball Federation Men's World Cup. It has was a tough test for the Canadian squad, but in the end they came through with a tight 25-20, 20-25, 29-27, 20-25, 15-12 win over Tunisia.
In a match where both teams had 109 points, Team Canada was able to squeak out a tight win against one of the poorest teams in the whole tournament. Sharone Vernon-Evans of Scarborough, Ontario led Canada with 23 points. Four other Canadian players reached the double digit mark in points scored as Lucas Van Berkel of Edmonton, Alberta had 18 points, Steven Marshall of Abbotsford, British Columbia and Danny Demyanenko of Toronto, Ontario had 13 points and Stephen Maar of Aurora, Ontario had 10 points.
Vernon-Evans led Canada with 18 spikes. Van Berkel led Canada with nine blocks and Byron Keturakis of Surrey, British Columbia led Canada with four aces. Marshall meanwhile was also in the double digits when it came to spikes as he had 11 points on the attack.
Canada unfortunately was unable to continue the momentum they got from their five set thriller against Tunisia on Thursday as they lost 25-16, 25-22, 25-20 in straight sets to Argentina. With a record of three wins and four losses, Canada is tied for sixth place with Argentina, Iran and Russia. Canada next plays the United States on Friday.