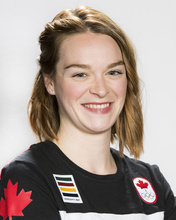 Team Canada could be considered strong medal contenders in mixed relay short track speed skating when the event makes its Olympic debut at the 2022 Olympic Winter Games in Beijing. The Canadian squad won its first ever World Cup medal in the history of the 2000 metre race on Sunday in Almaty, Kazakhstan.
The Canadian team comprised of Cedrik Blais of Chateauguay, Quebec, Alyson Charles of Montreal, Quebec, Samuel Girard of Ferland-et-Boilleau, Quebec and Kim Boutin of Sherbrooke, Quebec. Girard and Boutin combined for five medals for Canada at the 2018 Olympic Winter Games in Pyeongchang and have emerged as the leaders of the Canadian short track speed skating team as the new Olympic cycle is emerging.
In Almaty on December 9, the Canadian team had a gold medal winning time of 2:39.615. South Korea's Min Jeong Choi, Gun Woo Kim, June Seo Lee and Suk Hee Shim won the silver medal with a time of 2:39.639. Jinyu Li, Xuan Li, Hongzhi Xu and Songnan Yu of China won the bronze medal with a time of 2:39.789. Canada meanwhile reached the podium comfortably as they were 5.667 seconds faster than fourth place Japan, which finished in fourth place with a time of 2:45.282.
Now there is no doubt that South Korea will also be a formidable force at the next Olympic Winter Games in Beijing, and the Chinese team will have the benefit of home ice advantage, however the Canadian squad will be strong medal contenders as well. A major reason why Team Canada lacked success in mixed relay short track speed skating during the World Cups earlier this fall in North America is because Boutin decided not to start her World Cup season until Kazakhstan.