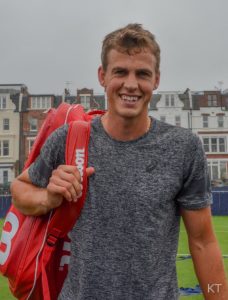 Team Canada won all three of their matches in Davis Cup action in Bologna, Italy on Thursday. With the victory over Sweden, the Canadians improved to a record of two wins and zero losses in Group A action.
Vasek Pospisil of Vernon, British Columbia came away with two victories. In singles play, Pospisil beat Leo Borg, 7-6, 5-7, 6-2. He then teamed up with Alexis Galarneau of Laval, Quebec to beat Filip Bergevi and Andre Goransson, 7-6, 7-6 in doubles action. Borg is the son of men's tennis legend, Bjorn Borg. An 11-time major champion, Bjorn Borg won six French Opens and five Wimbledon titles. He won the French Open in 1974, 1975, 1978, 1979, 1980 and 1981, and Wimbledon in 1976, 1977, 1978, 1979, and 1980.
Team Canada beat Sweden in the other match on Thursday. Gabriel Diallo of Montreal, Quebec defeated Elias Ymer, 6-4, 6-3. There is no doubt that Sweden was missing Mikael Ymer from their lineup. On July 17, the Court of Arbitration for Sport suspended Mikael Ymer for 18 months after he missed three out of competition doping tests in a span of a year.
On Saturday, Canada faces Chile, which has a record of one win and one loss. Chile has beaten Sweden, and lost to Italy. The Italians are also 1-1 as they lost to Canada on Wednesday. Canada needs one win in three matches against Chile on Saturday to reach the 2023 Davis Cup quarterfinals in Spain in November.