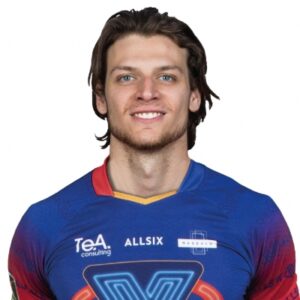 Team Canada won its first game in Olympic men's volleyball qualifying, as the program seeks entry into the 2024 Olympic Games in Paris. On Friday night in Canada, and Saturday morning in Xi'an, China, Canada beat the Netherlands 25-21, 23-25, 24-26, 25-18, 15-12.
Three Canadians reached double digits in scoring. Opposite Arthur Szwarc of Toronto, Ontario led Canada with 19 points (17 points from the attack and two block points). Meanwhile, outside hitters Stephen Maar of Aurora, Ontario and Eric Loeppky of Steinbach, Manitoba had 18 points and 17 points respectively. Maar had 15 attack points, two block points ands one ace. Loeppky had 15 attack points, one block point and one ace.
Middle blocker Jordan Schnitzer of Surrey, British Columbia led Canada with four block points and setter Luke Herr of Winnipeg, Manitoba led Canada with four aces. Block points and aces were the reason why Canada beat the Netherlands. Canada had 13 block points in the match and eight aces. The Netherlands meanwhile had five block points and three aces.
This was the first of back-to-back games for Canada in the Olympic Men's Volleyball Tournament. On Saturday evening (Sunday morning  in China), Canada faces Argentina. The Argentinians also won their first game as they beat Mexico in straight sets rather convincingly, 25-20, 25-17, 25-19.