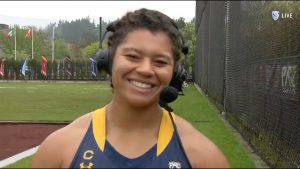 Camryn Rogers of Richmond, British Columbia won the gold medal on Thursday at the 2023 International Association of Athletics Federations World Athletics Championships in Budapest, Hungary. Canada has now won two gold medals at the World Championships as Ethan Katzberg of Nanaimo, British Columbia won the gold medal in the men's event on Sunday.
Rogers had a throw of 77.22 metres. Janes' Kassanavold of the United States won the silver medal with a throw of 76.36 metres. DeAnna Price of the United States had a throw of 75.41 metres. Rogers won a medal by a throw of 3.04 metres. Hanna Skydan of Azerbaijan finished in fourth place with a throw of 74.18 metres.
Rogers is the first Canadian female gold medalist in the women's hammer throw competition in the history of the World Athletics Championships. In addition to winning the gold medal at the World Championships, she has won the gold medal at the 2022 Commonwealth Games in Birmingham, and the 2018 World U20 Athletics Championships in Tampere.
This was the second World Athletics Championship won by Rogers. She previously won a a silver medal last year in Eugene, Oregon. The gold medal for Rogers will give her confidence as she prepares for the 2024 Olympic Games in Paris.