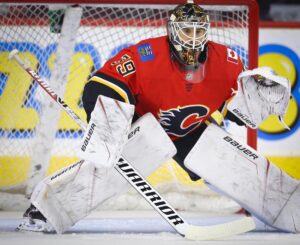 The Calgary Flames are off to the first round of the 2020 Stanley Cup Playoffs and they have goaltender Cam Talbot of Caledonia, Ontario to thank. Talbot recorded his third career playoff shutout on Thursday as the Flames blanked the Winnipeg Jets 4-0 in game four of the Stanley Cup Playoff qualifier from Edmonton, Alberta. With the win, the Flames won the best of five series three games to one.
Talbot made 11 saves in the first period, eight saves in the second period and 12 saves in the third period. Talbot's two prior postseason shutouts came while with the Edmonton Oilers against the San Jose Sharks in the first round of the 2017 Stanley Cup Playoffs. Talbot made 16 saves in a 2-0 Oilers win over the Sharks in game two on April 14, 2017, and then 23 saves in a 1-0 Oilers win over the Sharks in game three on April 16, 2017.
Talbot was one of two goaltenders on Canadian teams to record a shutout on Thursday. Jacob Markstrom made 27 saves as the Vancouver Canucks defeated the Minnesota Wild 3-0. With the win, the Canucks lead the best out of five series two games to one. Vancouver now plays Minnesota again on Friday in game four. A possible fifth and deciding game will be played in Edmonton on Sunday.