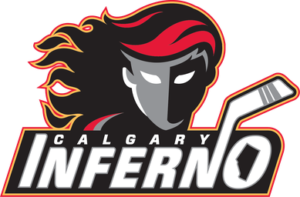 The Calgary Inferno have won the 2019 Clarkson Cup, which is presented annually to the Canadian Women's Hockey League champions. On Sunday, the Inferno defeated the Montreal Canadiennes 5-2 at Coca-Cola Coliseum in Toronto, Ontario to win the championship.
Zoe Hickel and Kacey Bellamy had two points each for the Inferno. Hickel had two goals and Bellamy had two assists. The other Inferno goal scorers were Halli Krzyzaniak of Brandon, Manitoba, two-time Canadian Olympic gold medalist Rebecca Johnston of Sudbury, Ontario and Brianna Decker. Johnston won a gold medal for Canada at the 2010 Olympic Winter Games in Vancouver and the 2014 Olympic Winter Games in Sochi.
The Inferno registered two first period goals and two third period goals, along with one second period goal. Both of the Canadiennes goals came in the second period.
This is the second time the Inferno have won the Clarkson Cup. They previously won the championship in 2016 when they beat the Canadiennes 8-3 in the final at the Canadian Tire Centre in Ottawa, Ontario.
In other women's hockey news, the Wisconsin Badgers won the Women's NCAA Frozen Four on Sunday. They defeated the University of Minnesota 2-0 in the championship game in Hamden, Connecticut. There were six Canadians on the Badgers championship team. They were Sam Cogan of Ottawa, Ontario, Sophie Shirley and Emily Clark of Saskatoon, Saskatchewan, Brette Pettet of Kentville, Nova Scotia, Nikki Cece of Oakville, Ontario and Kristen Campbell of Brandon, Manitoba.