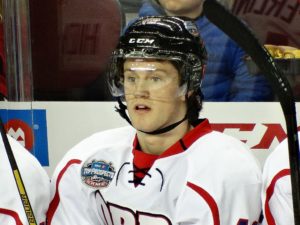 Three Canadian hockey players were involved in a blockbuster National Hockey League trade on Friday. The Florida Panthers traded Jared McCann of Stratford, Ontario and Nick Bjugstad to the Pittsburgh Penguins for Derick Brassard of Hull, Quebec and Riley Sheahan of St. Catharines, Ontario. In addition to Brassard and Sheahan, the Panthers receive one second round draft pick and two fourth round draft picks in the 2019 National Hockey League Entry Draft.
McCann, a center, has eight goals and 10 assists for 18 points in 46 games. The Penguins become McCann's third NHL team. In addition to the Panthers, McCann played his rookie NHL season with the Vancouver Canucks.
Brassard has nine goals and six assists for 15 points in 40 games with the Penguins. The Panthers become Brassard's fifth NHL team. In addition to the Penguins, Brassard has played for the Columbus Blue Jackets, Ottawa Senators and New York Rangers. In Brassard's first game with the Panthers on Saturday, he recorded an assist in the Panthers' game winning goal which was scored by Mike Hoffman of Kitchener, Ontario. Brassard and Hoffman played together on the Senators from 2016 to 2018.
Sheahan has seven goals and two assists for nine points with the Penguins. The Panthers become Sheahan's third National Hockey League team. In addition to the Penguins, he has also played for the Detroit Red Wings. Bjugstad meanwhile has five goals and seven assists for 12 points in 32 games with the Panthers.