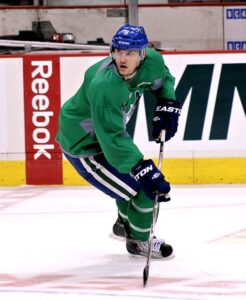 A pair of Canadians scored series-clinching goals for their respective teams in the National Hockey League playoff qualifier on Friday. Brad Richardson of Belleville, Ontario scored the overtime winner in the afternoon in Edmonton, as the Arizona Coyotes defeated the Nashville Predators 4-3. Then in the evening at Rogers Place in Edmonton, Chris Tanev of Toronto, Ontario scored the overtime winner as the Vancouver Canucks defeated the Minnesota Wild 5-4. The Coyotes beat the Predators three games to one, and the Canucks beat the Wild three games to one.
Richardson scored from Jason Demers of Dorval, Quebec, and Vinnie Hinostroza at 5:27 of overtime. It was Richardson's sixth career playoff goal and first playoff overtime winner of his career. He previously scored four playoff goals with the Los Angeles Kings from 2009 to 2012 with the Los Angeles Kings and one postseason goal with the Colorado Avalanche in 2005-06. In 2012, Richardson won the Stanley Cup with Los Angeles.
Tanev scored an unassisted marker only 11 seconds into overtime. It was the second-fastest overtime goal in Stanley Cup Playoff history. The only goal which was faster came from Brian Skrudland of Peace River, Alberta, who scored nine seconds into overtime in a 3-2 Montreal Canadiens win over the Calgary Flames on May 18, 1986, in game two of the 1986 Stanley Cup Finals.
Tanev finished the game with one goal and two assists for three points. Other Canadians on the Canucks with a multi-point game were Bo Horvat of London, Ontario, and Tanner Pearson of Kitchener, Ontario. Horvat had one goal and two assists for three points, and Pearson had one goal and one assist for two points.