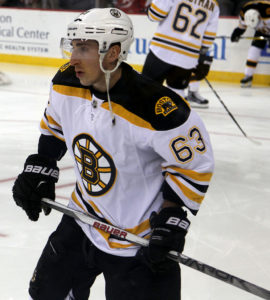 Boston Bruins left winger Brad Marchand of Halifax, Nova Scotia was named the first star of the week in the National Hockey League for the second time during the 2019-20 National Hockey League regular season on Monday. Marchand had three goals and four assists for seven points in a three game stretch for the Bruins from November 18-24.
Marchand played his first game of the week for the Bruins on November 19 in a 5-1 Boston win over the New Jersey Devils. Marchand had three assists and was a +3 throughout the evening.
Then in the Bruins' 3-2 win over the Buffalo Sabres on November 21, Marchand scored the first two Bruins goals. His second goal was his 15th of the season and came on the power play. Marchand was also a +1.
In the Bruins' final game of the week, Marchand had one goal and one assist for two points in a 5-4 win over the Minnesota Wild on November 23. Marchand was a +2 and added some physicality as he had four penalty minutes. In addition to the seven points in the three games, Marchand was a +6 with four penalty minutes, two power play points, four shots on goal, three hits and two faceoff wins.
Marchand was previously named the NHL first star of the week for the week of October 21-27. That week he had three goals and five assists for eight points in three games.
On the season, Marchand is third in the NHL with 39 points. He has 16 goals, 23 assists, a NHL high +17, 43 penalty minutes, 12 power play points, four game winning goals, 59 shots on goal, 11 faceoff wins, two blocked shots, 14 hits, nine takeaways and 23 giveaways.
The Bruins meanwhile are tied with the Edmonton Oilers for the second most points in the NHL with 35. Only the Washington Capitals at 37 points have more points than the Bruins.