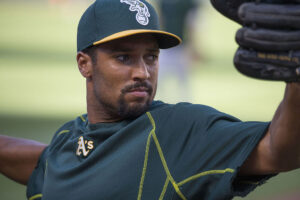 The Toronto Blue Jays drastically improved their infield depth on Tuesday by the signing of second baseman Marcus Semien of San Francisco, California. The Jays came to terms with Semien, who has played the last six seasons with the Oakland Athletics, to a one-year contract worth $18 million according to Gregor Chisholm of The Toronto Star.
The Blue Jays become Semien's third Major League Baseball team. In addition to the Athletics, he has played two seasons with the Chicago White Sox.
However even though Semien was one of the best hitting infielders in Major League Baseball in 2019, his 2020 season was a struggle. Semien only batted .223 with seven home runs and 23 runs batted in. During 211 at bats, he scored 28 runs, and had 47 hits, nine doubles, one triple, four stolen bases, and 79 total bases, with a .305 on base percentage, and a .374 slugging percentage.
The Blue Jays meanwhile will hope Semien returns to his 2019 form where he had career-highs in batting average .285, home runs (33), runs batted in (92), runs scored (123), hits (187), walks (87), on base percentage (.369), slugging percentage (.522), and total bases (343). The fantastic 2019 season was a reason why Semien was third in the American League Most Valuable Player race (behind Mike Trout of the Los Angeles Angels and Alex Bregman of the Houston Astros), and was considered the second best infielder in free agency, only behind DJ LeMahieu, who elected to re-sign with the New York Yankees.
In Toronto, expect Semien to move from his traditional position of shortstop to second base. Do not be surprised if Cavan Biggio will move from second base to third base, with Bo Bichette at shortstop.