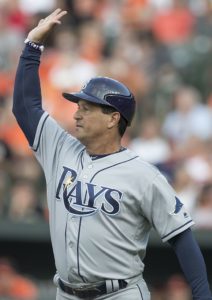 The Toronto Blue Jays named Charlie Montoyo their 13th manager in franchise history on Thursday. A native of Florida, Puerto Rico, Montoyo becomes the second Blue Jays manager in franchise history born outside the United States. The other was Carlos Tosca of Pinar del Rio, Cuba, who managed the Blue Jays from 2002-2004.
This is Montoyo's first managerial assignment in Major League Baseball. For the last three seasons he has been the bench coach for the Tampa Bay Rays.
Montoyo has another Canadian connection. In 1993, he played four games with the Montreal Expos and had great success. In five at bats, Montoyo had one run, two hits (one double and one single), three runs batted in, a batting average of .400, an on base percentage of .400 and a slugging percentage of .600. Montoyo's single came in a 4-3 Expos win over the Colorado Rockies on September 7, 1993 and his double came in a 7-1 Expos win over the Florida Marlins on September 29, 1993.
A second baseman, Montoyo played college baseball at Louisiana Tech University. He was drafted by the Milwaukee Brewers in the sixth round of the 1987 Major League Baseball Amateur Draft and then traded to the Expos on January 20, 1993 with Oreste Marrero for Todd Samples and Ron Gerstein.