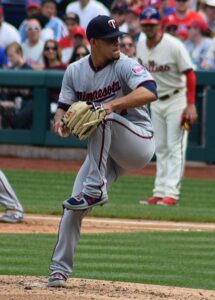 The Toronto Blue Jays are making a commitment for the 2021 Major League Baseball season. That is for sure. At the Major League Baseball trade deadline, the Blue Jays acquired starting pitcher Jose Berrios from the Minnesota Twins, as well as relievers Joakim Soria from the Arizona Diamondbacks and Brad Hand from the Washington Nationals. However the questions need to rise if the Blue Jays gave up too much of their future to win now, and are they too far back of Oakland for a wildcard spot to make a serious run for a playoff spot? (They are currently four and a half games back of the Athletics).
In acquiring Berrios, the Blue Jays gave up their number one prospect, in shortstop Austin Martin, as well as an elite pitcher in their system in Simeon Woods Richardson. However Berrios's resume is formidable to say the least. He is a two-time All-Star with the Twins in 2018 and 2019. In 20 games this season, Berrios had a record of seven wins, five losses and an earned run average of 3.48. In 121 2/3 innings, he gave up 95 hits, 47 earned runs, and had 32 walks. Berrios also had 126 strikeouts, and a WHIP (walks and hits per innings pitched) of 1.04.
The Blue Jays are Hand's fifth Major League team. He has previously been with the Florida/Miami Marlins, San Diego Padres, Cleveland Indians and Washington Nationals. An all-star with the Padres in 2017 and 2018, and with the Indians in 2019, Hand is a formidable closer. So far this season he has 21 saves in 41 games. In 42 2/3 innings, Hand has a record of five wins and five losses, an earned run average of 3.59, and gave up 31 hits, 17 earned runs, 18 walks, and had 42 strikeouts, with a WHIP of 1.15. To acquire Hand, the Blue Jays gave up catcher Riley Adams.
The Blue Jays meanwhile are sending a player to be named later for Soria. The veteran reliever is joining his ninth Major League team after being previously with the Kansas City Royals, Texas Rangers, Detroit Tigers, Pittsburgh Pirates, Chicago White Sox, Milwaukee Brewers, Oakland Athletics and Diamondbacks. In 31 games with Arizona, Soria had a record of one win and four losses and six saves in 29 1/3 innings. He also gave up 31 hits, 14 earned runs, and eight walks to go along with 31 strikeouts, an earned run average of 4.30, and a WHIP of 1.33. Like Hand and Berrios, Soria is an All-Star from the past as he represented the Royals at the 2008 and 2010 All-Star Games.