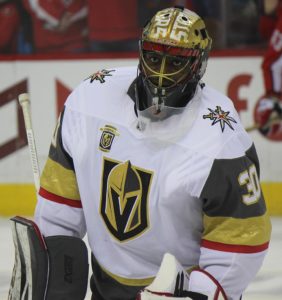 The Chicago Blackhawks traded goaltender Malcolm Subban of Toronto, Ontario on Thursday. According to TSN, Subban was traded to the Buffalo Sabres for future considerations.
The Sabres become Subban's fourth National Hockey League team. In addition to two seasons with the Blackhawks, he has played two seasons with the Boston Bruins and three seasons with the Vegas Golden Knights.
Subban had been playing in the American Hockey League this season at the time of the trade. In five games with the Rockford IceHogs, he had a record of two wins, two regulation losses, one loss in extra time, a goals against average of 3.32, and a save percentage of 3.38.
In 82 career NHL regular season games, Subban has a record of 36 wins, 31 regulation losses, and eight losses in extra time. He has three shutouts, a goals against average of 3.02 and a save percentage of .899.
Malcolm Subban is also known for being the brother of New Jersey Devils defenseman P.K. Subban. An Olympic gold medalist from the 2014 Olympic Winter Games in Sochi, P.K. Subban is a two-time NHL First-Team All-Star, won the Norris Trophy in 2013 while with the Montreal Canadiens, and has played in three NHL All-Star Games.
The Sabres had only won two of 10 games at the time of the trade. They have struggled mightily this season and have already dealt Jack Eichel to the Golden Knights.