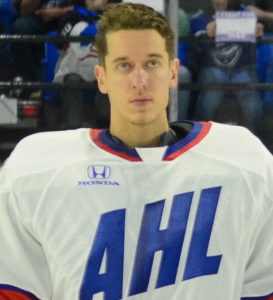 Jordan Binnington of Richmond Hill, Ontario recorded his fifth shutout of the 2018-19 National Hockey League regular season on Tuesday. He made 19 saves as the St. Louis Blues beat the Nashville Predators 2-0 at the Enterprise Center in St. Louis, Missouri.
Binnington made 10 saves in the first period, four saves in the second period and five saves in the third period. In his unbelievable rookie season, Binnington has shutout the Philadelphia Flyers 3-0 on January 7, the Tampa Bay Lightning 1-0 on February 7, the Arizona Coyotes 4-0 on February 14 and the Minnesota Wild 4-0 on February 17. In 20 games this season, Binnington has a record of 15 wins, two regulation losses, one loss in extra time, a goals against average of 1.61 and a save percentage of .936.
Canadian Olympic gold medalist Alex Pietrangelo of King City, Ontario notched two points as he had one goal and one assist. Tyler Bozak of Regina, Saskatchewan scored the game winning goal at 12:35 of the third period. Pietrangelo won a gold medal in men's hockey for Team Canada at the 2014 Olympic Winter Games in Sochi.
The Blues are the hottest team in the Western Conference. In their last 10 games, they have a record of eight wins, one regulation loss and one loss in extra time. In the Central Division, they currently have 74 points, which is good enough for third place.