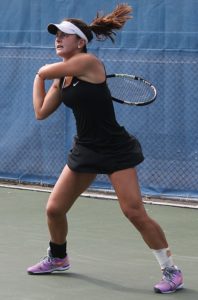 Bobbie Rosenfeld of Mississauga, Ontario has won the 2019 Bobbie Rosenfeld Award,which is presented annually to the Canadian Press female athlete of the year. In an announcement made on Thursday, Andreescu had possibly the best year ever by a Canadian singles tennis player (male or female) as she won the United States Open, Rogers Cup and Indian Wells Open.
Earlier this month Andreescu became the first Canadian tennis player ever to win the Lou Marsh Award, which is presented to the top Canadian athlete of the year. However, Andreescu is the fifth Canadian to win the Bobbie Rosenfeld Award. She is joined by players on a list that includes Carling Bassett of Toronto, Ontario (1983, 1985), Helen Kelesi of Richmond, British Colombia (1989, 19990), Aleksandra Wozniak of Montreal, Quebec (2009) and Eugenie Bouchard of Montreal, Quebec (2013 and 2014).
Andreescu became the first Canadian ever to win a grand slam singles title when she beat Serena Williams of the United States 6-3, 7-5 in the 2019 United States Open final on September 7 from Flushing Meadows, New York. Andreescu also beat Williams 3-1 in the 2019 Rogers Cup Final from Toronto on August 11 and Angelique Kerber of Germany 6-4, 3-6, 6-4 in the 2019 Indian Wells Final on March 17.
This past week, Andreescu announced she has withdrawn from the 2020 ASB Classic in Auckland, New Zealand due to a knee injury. Andreescu reached the final there last year, but lost to Julia Gorges of Germany in the final, 2-6, 7-5, 6-1.