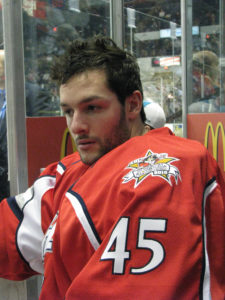 Jonathan Bernier of Laval, Quebec recorded his first National Hockey League shutout of the 2018-19 regular season on Saturday. Bernier made 35 saves as the Detroit Red Wings beat the Ottawa Senators 2-0 at the Canadian Tire Centre in Ottawa, Ontario.
Bernier made 15 saves in the first period, seven saves in the second period and 13 saves in the third period. Meanwhile on the scoresheet, Darren Helm of St. Andrews, Manitoba scored one of the two goals for the Red Wings.
On the season, Bernier has a record of six wins, 12 regulation losses and two losses in extra time. He has a goals against average of 3.34 and a save percentage of .898. Bernier has primarily been in a backup role to Jimmy Howard in Detroit.
It was Bernier's 17th career shutout. He previously has had six shutouts each with the Los Angeles Kings and Toronto Maple Leafs and two shutouts each with the Colorado Avalanche and Anaheim Ducks.
The Red Wings have now won three games in a row, with all of their wins during the streak coming in Canadian cities. In addition to their shutout win over the Senators on Saturday, Detroit beat the Edmonton Oilers 3-2 on January 22 at Rogers Place and the Toronto Maple Leafs 3-2 on February 1 at Scotiabank Arena.