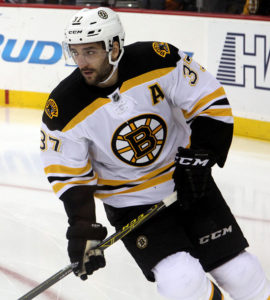 Patrice Bergeron of L'Ancienne, Lorette, Quebec is off to an outstanding start to the 2018-19 National Hockey League season for the Boston Bruins. In his first three games of the season, Bergeron has four goals and two assists for six points and is a +3.
Bergeron recorded a hat trick on Monday in a 6-3 win over the Ottawa Senators. He also added an assist for four points. There is no doubt that Bergeron is flourishing on the Bruins number one line, which includes Brad Marchand of Halifax, Nova Scotia and David Pastrnak. Marchand currently leads the NHL with seven assists.
Meanwhile, Toronto Maple Leafs center Auston Matthews was the NHL's first star of the week. In three games, Matthews has five goals and three assists for eight points. He currently leads the NHL with eight points and is tied with Jonathan Toews of the Chicago Blackhawks for the NHL lead in goals with five. Toews, a native of Winnipeg, Manitoba, was the NHL's second star of the week.
Bergeron and Toews are two-time Canadian Olympic gold medalists. They each won the gold medal in men's hockey for Canada at the 2010 Olympic Winter Games in Vancouver and the 2014 Olympic Winter Games in Sochi.