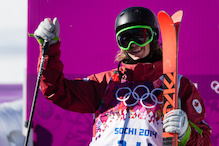 Canadian Olympic bronze medalist Alex Beaulieu-Marchand of Quebec City, Quebec won the silver medal in a men's slopestyle skiing event at the 2019 Winter X Games in Aspen, Colorado on Sunday. For Beaulieu-Marchand, it was his second silver medal at the 2019 Winter X Games as he also won the silver medal in the men's big air skiing event on Saturday.
Beaulieu-Marchand had a second place score of 92.66 points. Alex Hall of the United States won the gold medal with 95.66 points. Ferdinand Dahl of Norway won the bronze medal with 80.33 points.
Beaulieu-Marchand comfortably reached the podium. He had 14.33 more points than Henrik Harlaut of Sweden, who finished in fourth place with a score of 78.33 points.
This was Beaulieu-Marchand's second time that he earned a medal in men's slopestyle skiing at the Winter X Games. He previously won the bronze medal in 2017.
Of the 12 events with Olympic status at the 2019 Winter X Games, Team Canada came away with seven medals (three gold medals, three silver medals and one bronze medal). They were second overall behind the United States with nine medals.
Beaulieu-Marchand won the bronze medal for Canada in men's slopestyle skiing at the 2018 Olympic Winter Games in Pyeongchang. The silver medal in Aspen will give him confidence as he prepares for the 2022 Olympic Winter Games in Beijing.