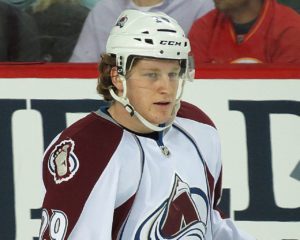 Colorado Avalanche center Nathan MacKinnon of Halifax, Nova Scotia was named the National Hockey League First Star of the Week for the week from April 3-9, 2023. MacKinnon had five goals and five assists for 10 points in four games. He was also a +4 with three power-play points, three game-winning goals, 21 shots on goal, three hits, four blocked shots and 23 faceoff wins.
MacKinnon began the week with two goals and one assist for three points in a 4-3 Colorado win over the San Jose Sharks on April 4. One of his two goals was the overtime winner from defenseman Devon Toews of Abbotsford, British Columbia at 3:13 of the extra frame.
MacKinnon then notched one goal and three assists for four points in a 6-2 Colorado win over the Sharks on April 6. After recording zero points in a 4-3 Avalanche win over the Los Angeles Kings on April 8, MacKinnon had two goals and one assist for three points in a 5-4 Avalanche win over the Anaheim Ducks on Easter Sunday. MacKinnon's second goal was the overtime winner from Toews and Mikko Rantanen with 45 seconds left on the power-play.
In 68 games, MacKinnon has 39 goals and 68 assists for 107 points. He is a +27 with 30 penalty minutes, 34 power-play points, eight game-winning goals, 350 shots on goal, 497 faceoff wins, 39 blocked shots, 53 hits, 42 takeaways and 45 giveaways.
The Avalanche lead the Central Division with a record of 49 wins, 24 regulation losses and six losses in extra time for 104 points. They are one of three teams in the Central Division that have reached the century mark in points as the Dallas Stars also have 104 points and the Minnesota Wild have 102 points.