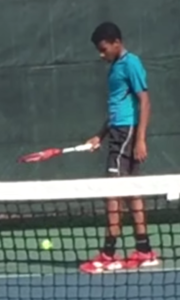 Felix Auger-Aliassime of Montreal, Quebec made tennis history on Sunday by becoming the youngest player ever to reach the final of an ATP 500 series event. He set the record on Saturday when at the age of only 18, beat Pablo Cuevas of Uruguay 6-3, 3-6, 6-3 in the semifinals of the 2019 Rio Open.
Unfortunately for Auger-Aliassime, he was unable to keep his momentum from Saturday going into the final on Sunday as he lost 6-3, 7-5 in straight sets to Laslo Djere of Serbia. For Djere, it was his first ATP Tour title, and as a result, he skyrocketed up the rankings from 90th to 37th. The 2018 tennis season was also very emotional for Djere, as he lost both of his parents to cancer.
Auger-Aliassime reached the semifinals on Friday when he beat Jaume Munar of Spain 6-4, 6-3. Like Djere, Auger-Aliassime moved up significantly in the ATP Tour rankings as he leaped from 104th to 60th. Auger-Aliassime is currently the third ranked Canadian at the moment as Milos Raonic of Thornhill, Ontario is 14th and Denis Shapovalov of Toronto, Ontario is 24th. However, it should be noted that of the three top Canadian male tennis players at the moment, Auger-Aliassime is the only one born in Canada. Raonic was born in Montenegro and Shapovalov was born in Israel.
Prior to Auger-Aliassime, the youngest player to reach an ATP 500 series final was Alexander Zverev of Germany. In 2016, Zverev reached the final of the Halle Open in Germany at the age of 19, but lost to Florian Mayer of Germany, 6-2, 5-7, 6-3.