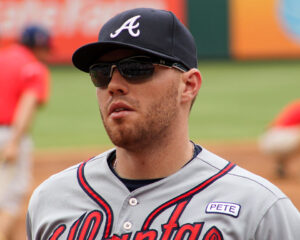 According to the Associated Press on Saturday, Atlanta Braves first baseman Freddie Freeman has tested positive for coronavirus. Even though Freeman was born in the United States, Freeman competes internationally for Canada as his mother was from Peterborough, Ontario, and his father was from Windsor, Ontario.
Freeman is one of four Braves to test positive for coronavirus. He was joined by shortstop Pete Kozma of Tulsa, Oklahoma, pitcher Touki Toussaint of Pembroke Pines, Florida, and Will Smith of Newman, California.
A four-time all-star, Freeman batted .295 with 38 home runs and 121 runs batted in during the 2019 Major League Baseball regular season. His 121 runs batted in were a career high. Freeman also had a career-high in runs scored (113) last season. In 158 games in 2019, Freeman also had 176 hits, 34 doubles, two triples, six stolen bases, 87 walks, a .389 on base percentage, .549 slugging percentage, and 328 total bases. In 2018, Freeman led the National League with 191 hits and 44 doubles, and in 2012 led the National League with nine sacrifice flies.
It also appears that Freeman will be sidelined by the Braves for the indefinite future. Braves manager Brian Snitker says Freeman has fever-like symptoms according to Mike Axisa of CBS Sports. The Major League Baseball regular season is projected to start July 23, however, no official schedule so far has been released.