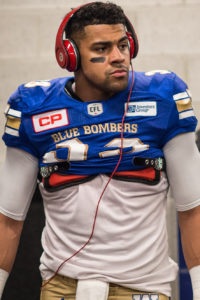 It has been an eventful last two weeks for Winnipeg Blue Bombers running back Andrew Harris of Winnipeg, Manitoba. First, on August 15, in the 32-16 Blue Bombers win over the British Columbia Lions, Harris set the Canadian Football League record for most yards by a Canadian from scrimmage. He then was an instrumental force in the Blue Bombers 34-28 win over the Edmonton Eskimos on Friday. Then on Monday, Harris was suspended for two games coming up for violating the CFL's drug policy.
Harris now has 13481 yards from scrimmage, if you include the Blue Bombers games against the Lions and Eskimos. He broke the record previously set by Ben Cahoon of Cardston, Alberta. Cahoon had 13,368 yards with the Montreal Alouettes from 1998 to 2010.
In the Blue Bombers win over the Eskimos, Harris had 89 yards rushing for a touchdown and 15 yards receiving for 104 total yards. With the win, Harris's touchdown was a two yard run which put Winnipeg up 16-6 at the time. With the win, the Blue Bombers remained in first place in the CFL West with a record of eight wins and two losses.
Harris will be missing the two Blue Bombers games against the Saskatchewan Roughriders, who are second in the West Division with a record of six wins and three losses. The teams play against each other on September 1 in Regina and September 7 in Winnipeg.
Harris becomes the second high profile Canadian athlete to be suspended for violating a drug policy. Eleven-time world champion Laurence Vincent-Lapointe of Trois-Rivieres, Quebec was suspended from the 2019 World Sprint Canoeing Championships in Szeged, Hungary this past week for taking the illegal substance of ligandrol.