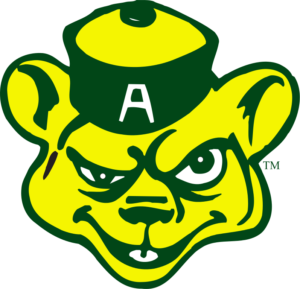 The University of Alberta Golden Bears  and the University of Manitoba Bisons are the 2018 USports hockey champions. On Sunday, the Golden Bears defeated the University of St. Francis Xavier 4-2 in Fredericton, New Brunswick to win their record 16th Canadian title in men's university hockey.
Wil Tomchuk of Fort McMurray, Alberta scored the game winning goal for the Golden Bears at 4:18 of the second period. He scored from Taylor Cooper and Steven Owre. The other Golden Bears goal scorers were Stephane Legualt, Luke Philp and Jamie Crooks. Alberta was down 2-0 after the first period, but rebounded to score four unanswered goals.
In the women's final, the Bisons won their first ever USports women's hockey national championship in school history. The Bisons defeated the University of Western Ontario Mustangs 2-0 in the final from London, Ontario. Lauren Taraschuk of Winnipeg, Manitoba made 20 saves for the shutout. The Canadian goal scorers were Lauryn Keen and Venla Hovi. Keen scored the game winning goal with 1:44 left in the second period on the power play and Hovi scored at 5:10 of the third period for a key insurance marker.
Meanwhile in volleyball, the University of British Columbia Thunderbirds won the national title in men's play. The Thunderbirds beat the University of Trinity Western Spartans 25-22, 25-18, 27-25 at the Burridge Gymnasium at McMaster University in Hamilton, Ontario. In women's final, the University of Ryerson beat the University of Alberta Pandas 25-22, 29-31, 25-19, 25-21 from Quebec City, Quebec. The University of Ryerson Rams had a perfect season of 25-0 in 2018.