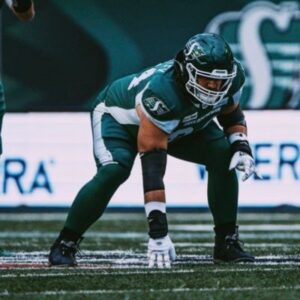 According to TSN on Saturday, the San Francisco 49ers of the National Football League have signed offensive guard Dakoda Shepley of Windsor, Ontario. Shepley played 18 games for the Saskatchewan Roughriders of the Canadian Football League in 2019 after being selected fifth overall by the Roughriders in the 2018 CFL Draft.
In 2018 Shepley signed with the New York Jets as an undrafted free agent. He played three preseason games in the Big Apple before being released on August 31, 2018, right before the regular season was to start. Then in October of 2018, Shepley was added to the Roughriders' practice roster.
At this time it is expected Shepley will be used more in a reserve role. The 49ers are coming off a magnificent season as they won the NFC West in the regular season with a record of 13 wins and three losses. They then reached the Super Bowl before losing 31-20 to the Kansas City Chiefs.
In other CFL News, former Canadian Football League offensive lineman Dan Yochum of Bethlehem, Pennsylvania died at the age of 70 on Wednesday. Yochum was a four-time CFL All-Star with the Montreal Alouettes from 1975 to 1978. He also won two Grey Cups with the Alouettes in 1974 and 1977, and a third with the Edmonton Eskimos in 1980. In 2004, Yochum was inducted into the Canadian Football Hall of Fame in Hamilton.