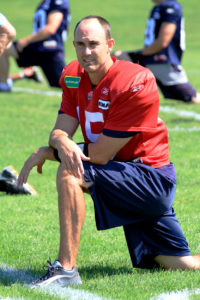 There are two things that emerged from week one of the Canadian Football League season. The first is that Ricky Ray is just fine at age 37 and the second is that the Edmonton Eskimos could be in a lot of trouble with the loss of linebacker J.C. Sherritt.
Let's look at Ray first. This week I have been watching the excellent 30 for 30 series on TSN (via ESPN) about the fantastic 1980s rivalry between the Los Angeles Lakers and Boston Celtics. After game one of the 1985 NBA Finals, there was a belief that the 38 year-old Kareem Abdul-Jabbar was all washed up with the Lakers, especially after he only had 12 points and three rebounds in game one. Then in game two, he rebounded with 30 points and 17 rebounds, and had 36 points in game five as the Lakers beat the Celtics for the first time in NBA playoff history and Abdul-Jabbar was named NBA Finals MVP.
How Abdul-Jabbar is connected to Ray is because there was speculation that Ray was all washed up heading into the 2017 CFL season. He had only played 12 games over the last two years due to injuries. However the criticism was laid to rest on Sunday when Ray was spectacular in a surprise 32-15 Toronto win over Hamilton. He completed 32 passes in 41 attempts for 506 yards. The bottom line is Ray is simply fine and should work well with CFL offensive genius and new Argos head coach Mark Trestman.
Meanwhile in Edmonton, the Eskimos all of a sudden are weak at linebacker. In a position that was supposed to be their strength heading into 2017, Edmonton has lost JC Sherritt and Cory Greenwood for the season with Achilles injuries. Yikes! Edmonton next plays Montreal on Friday. The other games are Ottawa at Calgary (Thursday), B.C. at Toronto (Friday) and Winnipeg at Saskatchewan (Sunday).